What is fontdrvhost.exe? Is it a virus or malware file? If you've asked yourself these and other related questions, then this article is for you. We have put together all the info that you may want to know about this file. Read on to find out….
If you are using Windows operating system, you may have come across a file by the name fontdrvhost.exe. Well, not many people know about it until they decide to find out what could be affecting their PC's performance, and then their attention is drawn to this file with a "strange name."
That said, in this post, we have provided a detailed description of what this file is, where it's located, and whether it is safe or not. By the end of this quick-read, you'll be more informed and knowledgeable about fontdrvhost.exe. Enough of the intro; let's dive right in…
---
What is fontdrvhost.exe?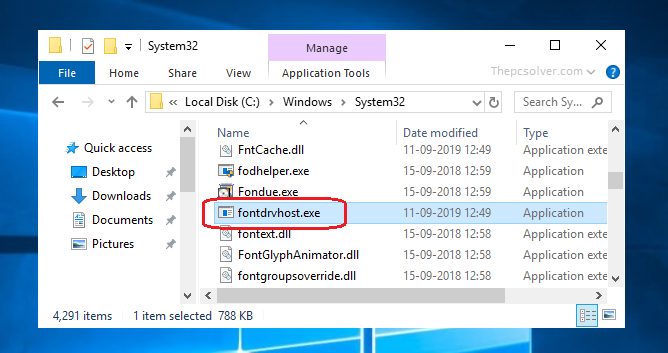 The fontdrvhost.exe is a genuine Windows program file that supports the smooth running of the operating system. The original version of the program was designed and developed by Microsoft. It is also referred to as Usermode Font Driver Host.
It is considered an essential component of the Windows font driver management system, and it is responsible for managing the font drivers in your current user account. Simply put, your windows operating system is using fontdrvhost.exe to host special font drivers that are used by the OS.
The file name of the Microsoft OS program has a .exe file extension name. This means that the software is an executable program. You can find it in the system32 folder, and you can find it by going to your drive C partition, clicking on the windows folder, locating and opening the system32 folder, and then searching for the fontdrvhost.exe file using the search bar.
Files in the system32 folder require administrator privileges before accessing, adding, removing, or editing any file. Like most executable system files, fontdrvhost.exe has an approximate size of 673,456 bytes on Windows 10/8/7/XP. However, in some rare instances, the file can actually be much smaller, occupying only 626,528 bytes.
You can locate this file using the Task Manager utility feature as follows:
Step 1: Right-click on the start button and select Task Manager or press Win + X and then select Task Manager.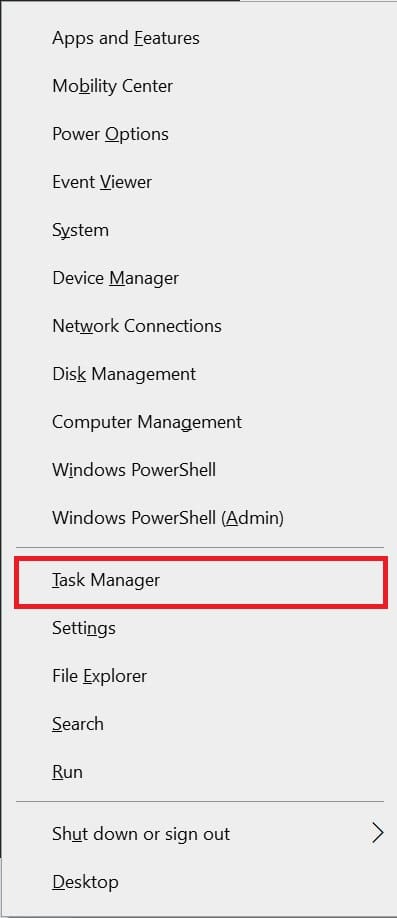 Step 2: Under the "Processes" tab, locate a file called Usermode Font Driver Host.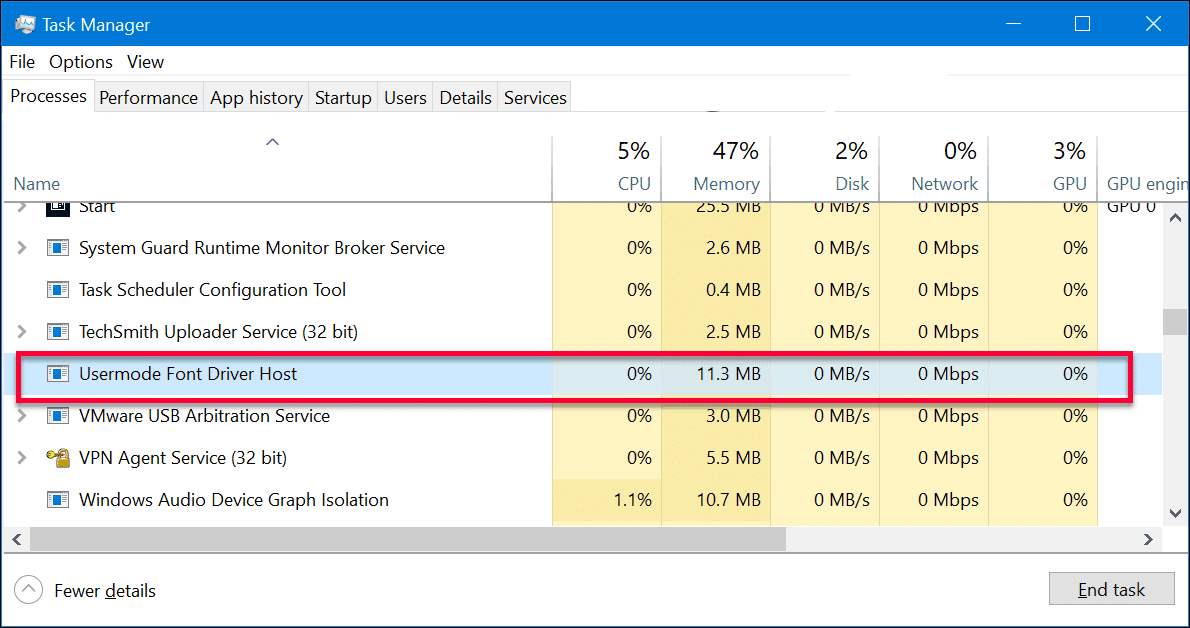 ---
Is fontdrvhost.exe safe?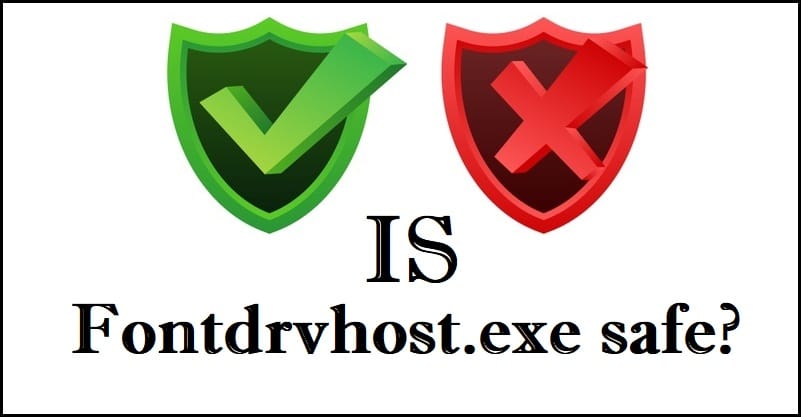 The genuine fontdrvhost.exe file is generally a safe OS program file that aids your system manage fonts to display on the current user account. The system file requires protection because of its sensitive location on your windows operating system. It has hidden attributes attached to it, and it is not a visible file unless you check the "Hidden items" box on the view tab of the opened window. A genuine fontdrvhost.exe file system has a Microsoft signature.
The signature needs to be verified by an independent and trustworthy company. The security rating of the system file is at 2% and thus considered dangerous. Meaning hackers can potentially compromise or mimic this system file with malware programs. In such rare cases, you might have to scan your PC for malware or remove the fontdrvhost.exe file.
There are two main ways to tell if the filedrvhost.exe on your PC is genuine or malicious. Both of these ways involve the Task Manager utility feature.
For the first method, all you need to do is count the number of instances of this particular file under the Details tab. If there are two or more fontdrvhost.exe files therein, then there's a problem.
For the second method, you need to check the file's location. Being a system file, filedrvhost.exe should be located in the System 32 folder.
To make the confirmation of file location, follow these steps:
Step 1: Press Win + X and select Task Manager from the menu options. Alternatively, you can open the Task Manager directly by pressing Ctrl + Shift + Esc.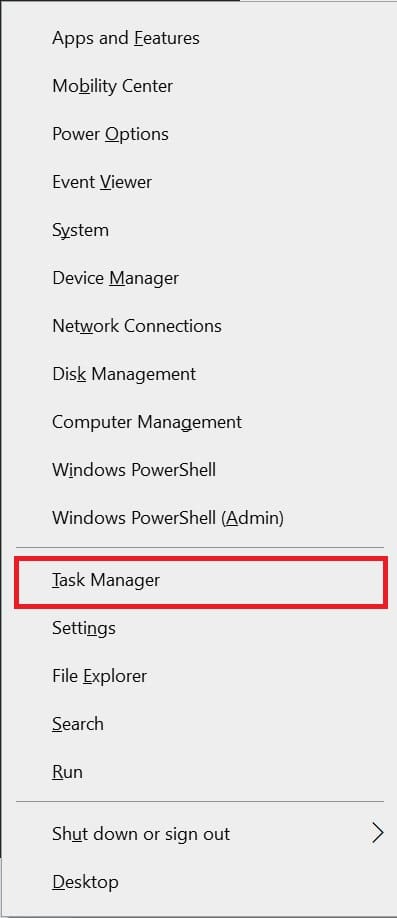 Step 2: In the Task Manager window, under Details, locate the fontdrvhost.exe file.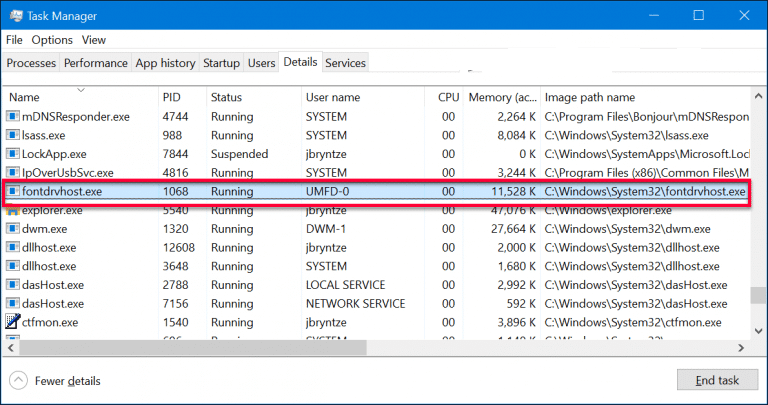 Step 3: Right-click on the file and select Open File Location from the drop-down menu options.
If it is a genuine system file, the location should be pointing to the System 32 folder, i.e., C:\Windows\System32.
Also, the file should have UMFD-0 indicated as the username.
If the fontdrvhost.exe file is not located in the System 32 folder, it is probably corrupted. In such a case, run a thorough system scan using an antivirus program or remove the filedrvhost.exe file as soon as possible to avert further damage to system files.
---
Common errors caused by fontdrvhost.exe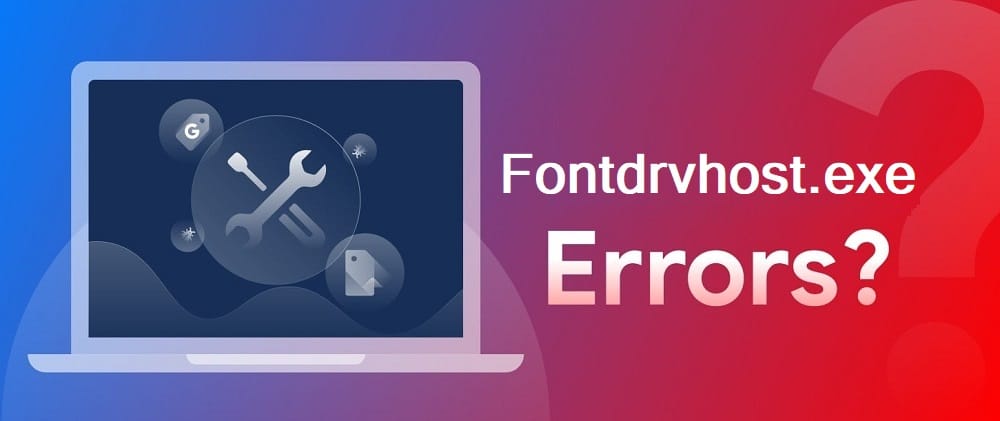 Apart from providing different fonts, this system file can also help supervise other applications, manipulate other programs, and record mouse and keyboard inputs.
The most common errors associated with the font driver host executable file include missing Exe file, User-mode font driver host Windows 10 failing to load, User-mode font driver host high CPU, Fontdrvhost.exe runtime error, and Exe crash.
The display of different fonts may be affected if this system file is compromised. The smooth operation of the application associated with it may also be affected.
---
Should I remove fontdrvhost.exe from my computer?
The recommended procedure for dealing with any malicious or faulty program is to remove it so you can restore your operating system to normal. However, the Windows font driver management file is an essential program that can cause your operating system to misbehave if removed.
You could try to reinstall the Microsoft Office Access 2010 software to fix most of the above problems. To do this, go to settings if you are running Windows 10 on your PC. Click on Apps and search for Microsoft Office Access 2010 using the search tab.
Once your search yields the desired result, select and uninstall it. Go to Microsoft's official website to install updates and reinstall the Microsoft Office Access 2010 software.
---
How to tell if fontdrvhost.exe is malicious? 
The best way to check if your system file is genuine is to look at the program's signature.
Step 1: Locate the User-mode Font Driver Host entry on the task manager.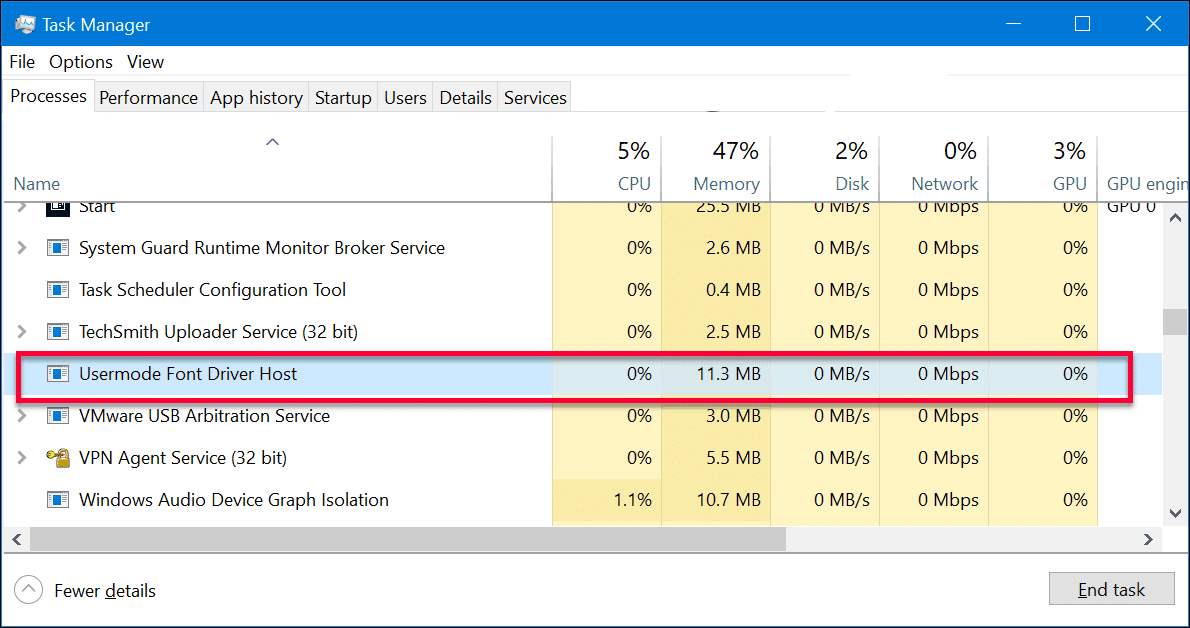 Step 2: Right-click on it and select properties.
Step 3: Under the details tab, check for Microsoft's signature.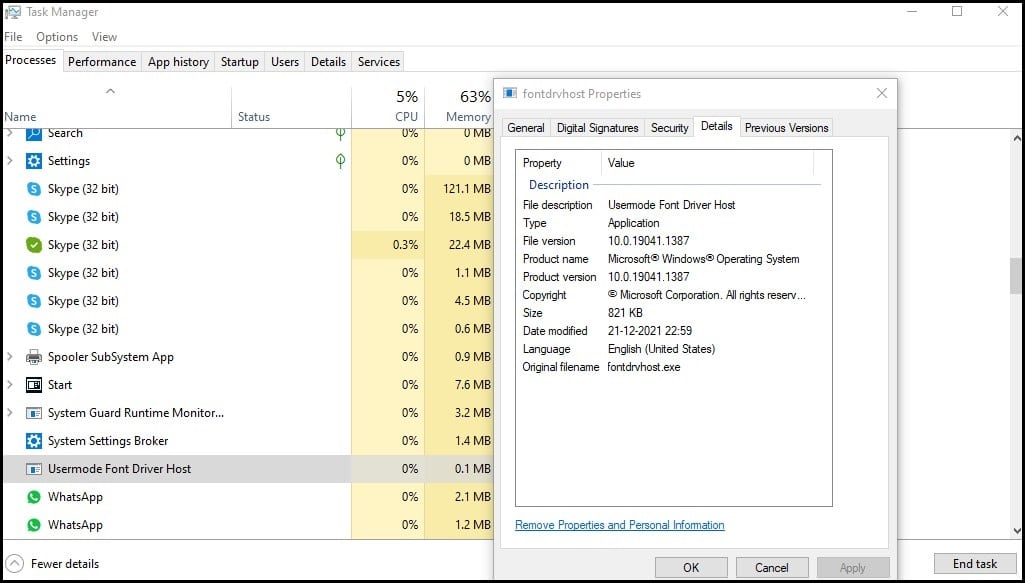 ---
How to disable fontdrvhost.exe on your computer?
You can disable the system file by looking for the User-mode Font Driver Host entry on the task manager. You can disable it by right-clicking and selecting the end task option to terminate the program.
Another option would be to uninstall the file. To do this, proceed as follows:
Step 1: In the Search Bar, type Uninstall.

Step 2: In the search results, select Add or Remove Programs.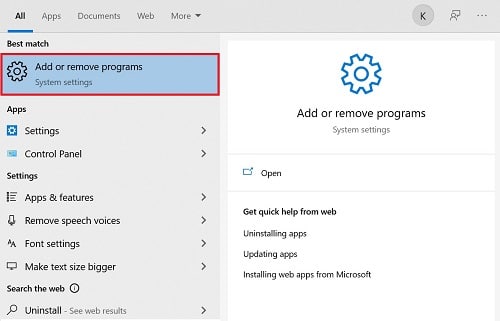 Step 3: The Settings window will appear. Under Apps & Features, search for exe or Usermode Font Driver Host and then click Uninstall.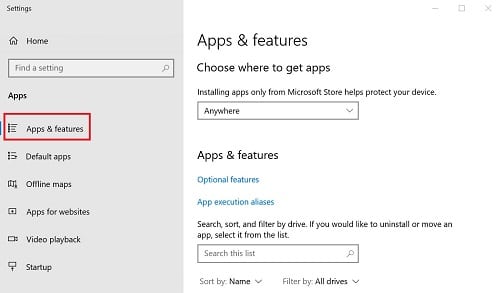 Step 4: Restart your PC for the changes to take effect.
Now, check to see if the problem was resolved.
---
FAQs
1. Is fontdrvhost.exe a virus or malware?
The genuine system file with a Microsoft signature is safe, but most programmers disguise malicious programs by giving it a name similar to fontdrvhost.exe to avoid detection by an antivirus program.
2. Why is fontdrvhost.exe running on my computer?
This is a certified Windows font driver management software component used by the operating system to host, manage, and display special types of fonts.