The mouse pad gets dirty from hand sweat, spilled drinks, dust, and debris. This dirt is unhygienic and may affect precise mouse control. It is critical to know how to clean the mouse pad often.
After continuous use of your mouse for a long time, it can get dirty easily. This is especially if you are a gamer or use your computer for a long period each day, if you do not want to buy a new mouse pad, I think you need to know how to clean it.
The cleaning procedure is easy, hence, you shouldn't have an excuse for not cleaning it. The working table features a lot of germs and dirt that you need to be conscious about.
In as much as you clean your mouse pad, make it a habit to clean your desk surface each day. Dirt settles so fast on surfaces. You can wash the mouse pad using cold water or a washing machine.
---
The Steps To Clean The Mouse Pad
To clean a mouse pad manually, you will need cold water, a cleaning brush, a towel, and a fan (optional). This is a guide on how to clean it well.
1. Immerse In Water To Remove Dirt.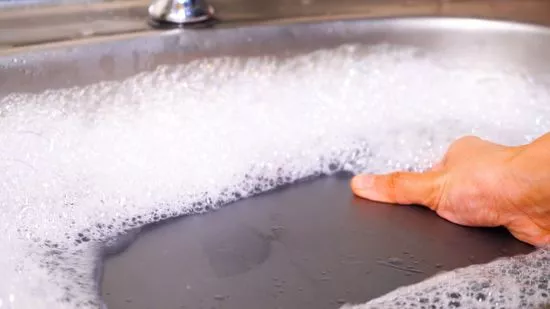 First, you will need to shake off any loose dirt, debris, foods, and particles on the mouse pad. You will need to use cold water to clean the mouse pad.
You can either decide to run it through tap water or put it in a large bowl for a few minutes. Once the loose dirt is off, you can now use soap to remove the deep dirt.
2. Use A Soft Brush And Dish Soap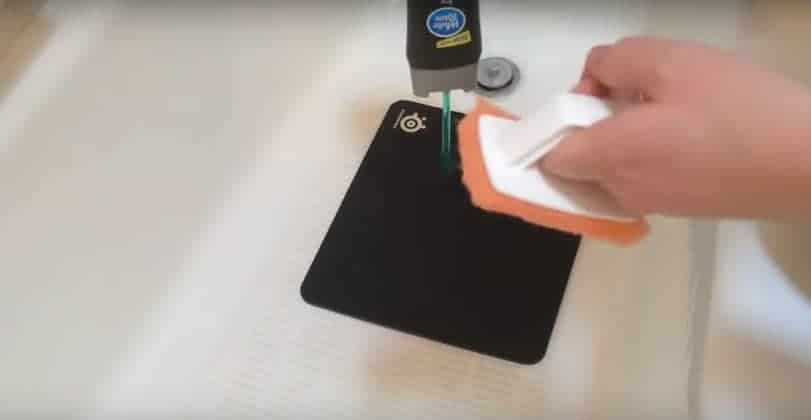 You can then take a hand shampoo or hand soap to remove the stains on the mouse pad. First, pour some bit of dish soap on the mouse pad, use a soft brush on the surface horizontally, vertically, and diagonally.
Use the brush to remove stains, spots, debris, or oil. If it is a cloth mouse pad, do not scrub it, as it may cause it to peel off. You can only use a DISINfog wipe.
3. Disinfection And Rinsing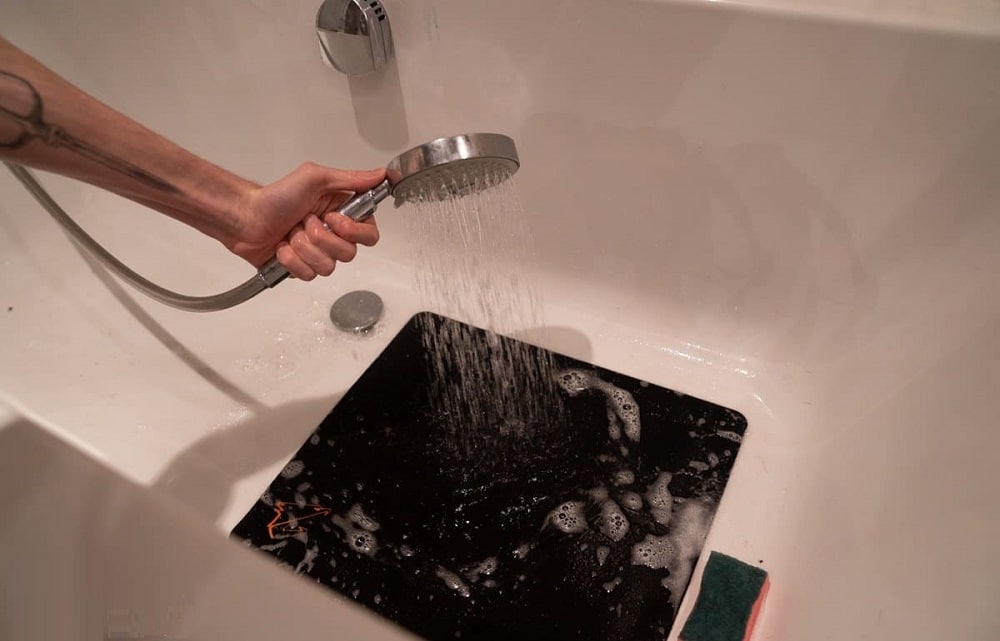 The mouse pad can have stains, bacteria, and debris, Hence, it is recommended to use a disinfectant to remove germs and bacteria. Therefore, after cleaning, spray alcohol or use another disinfectant above the mouse pad.
Once you are done, rinse the mouse pad using cold water. Make sure it is sparkling clean by removing excess soap before setting it to dry.
4. Dry Off The Mouse Pad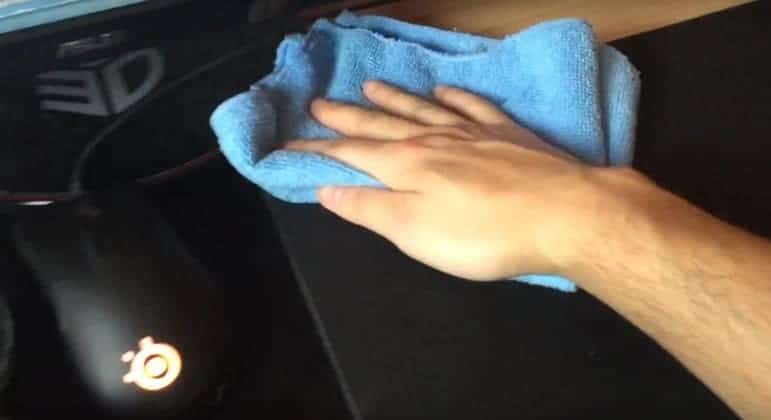 First, dry your mouse using a towel. After that, place the mouse pad in a cool, ventilated place, and let it dry. If you are in a hurry to use it to play games, use a hairdryer or fan to dry it.
However, while using a hairdryer, keep the mouse pad at a distance. If the mouse pad is made of plastic or nylon, it can melt easily.
Alternatively, you can dry it out in the sun, to prevent it from damaging the mouse or keyboard. Make sure it dries for 24 hours.
---
Washing Machine To Clean
If you don't have the time to handwash the mouse pad, you can use a washing machine. While cleaning, never use warm water because it can damage the mat. The washing machine can help remove all stubborn dirt.
If you have a print mouse pad or a fabric mouse pad, try not to use a washing machine to prevent damage.
Step 1: In this method, you will need to use a gentle detergent to clean the mouse pad.
Step 2: The washing machine should be set to cold water.
Step 3: Remember to change the settings to the light cycle.
Step 4: To prevent destroying it, try not to use any kind of bleach.
Step 5: Once clean, remove it and let it air dry. Wait for 24 hours before you can use it again.
---
How Often Do You Clean The Mouse Pad
You should try to wash it every two to three months, depending on how often you use your mouse pad. Also, pay attention to cleaning your mechanical keyboard and mouse.
This is especially if you use your computer daily in the office. However, you can still increase the number of times you clean it if it gets dirty fast. This can occur when it falls off or gets some drink spills.
---
Clean Your Mouse Pad Often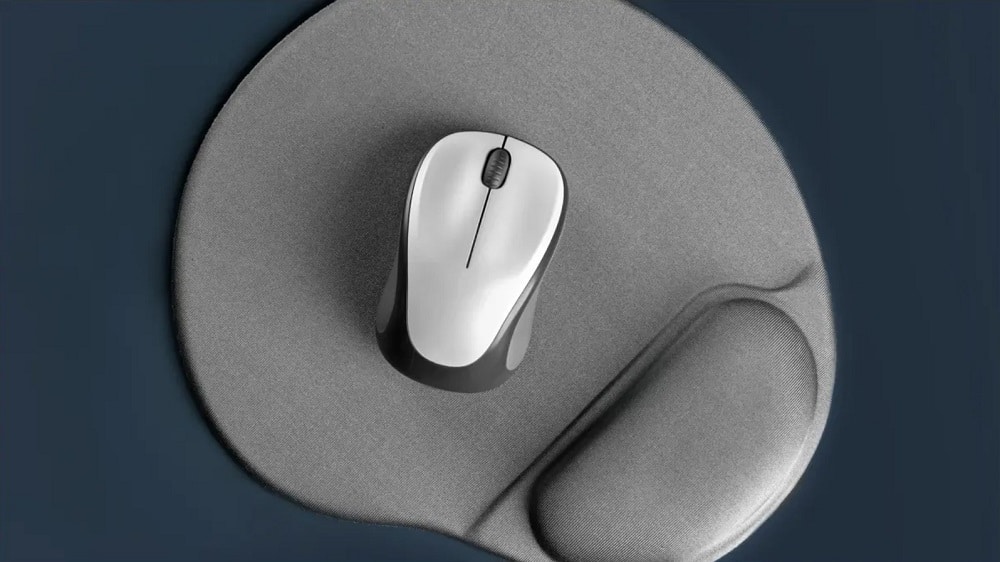 In as much as you clean the mouse pad, you still need to clean your desk. The desk gets dirt so fast and can cause you to even get flu's often due to the dirt. Hence, be wary of that when keeping your working area clean.
Also, remember that rubber or plastic mouse pads can be wiped with wet wipes or a damp cloth, but those made of fabrics need a bit of effort. Your mouse mat should always be clean.