What is Service Host Superfetch and what good does it do for your Windows 10 system? The launch of the newest PC system from Microsoft has offered a lot of new features with sleek designs. Other than the new design, Windows 10 also came up with new features in its system. The big leading computer technology company included many system processes in Windows 10 in order to improve a PC's performance.
Some of the new features work wonderfully, while others fail to do so. Those features who fail have increasingly worsened up the computer performance. Among these problematic things, SuperFetch affects computer performance quite effectively. The new feature in the system creates high disk usage in Windows 10 system which is followed by the sluggish performance of the PC.
At some point, your personal computer may have encountered high disk usage trouble. In Windows PCs, the problem often deals with Service Host: Superfetch. This feature of Windows 10 system process takes up a big chunk of memory storage as presented in the Task Manager. If you happen to encounter this problem, find what you ought to know about Superfetch below.
---
What is Superfetch?
Superfetch is a feature in Windows systems which can optimize the speed of app launching. It works by preloading certain apps according to your usage patterns. The feature was originally introduced in Windows Vista. As a successor to PreFetch, which was found in Windows XP, Superfetch made its way to the next generation of modern Windows.
In order for the Superfetch feature to work, the system will need to accumulate caches of each application and program of the PC. With the assistance of a lightweight tracking algorithm, Windows 10 Superfetch process creates a cache data of each one of the applications and programs. It's important to note that these data are made based on the applications you use most regularly. You ought to use these applications for work and your regular activities. A document based program or a Twitter application, for instance, may get into the cache profiles of Superfetch for the amount of time you access them.
SuperFetch monitors every application running on your PC's system. When you close off a frequently used application, SuperFetch proceeds to get the system's main Memory manager to gather some applications cache memory. Therefore, the computer systems won't have to operate the program from the disk when you open the program the next time. In short, it will manage to access and open the program in a short amount of time by utilizing the existing cache data from the said program.
---
Service Host Superfetch and Disk Usage in Windows 10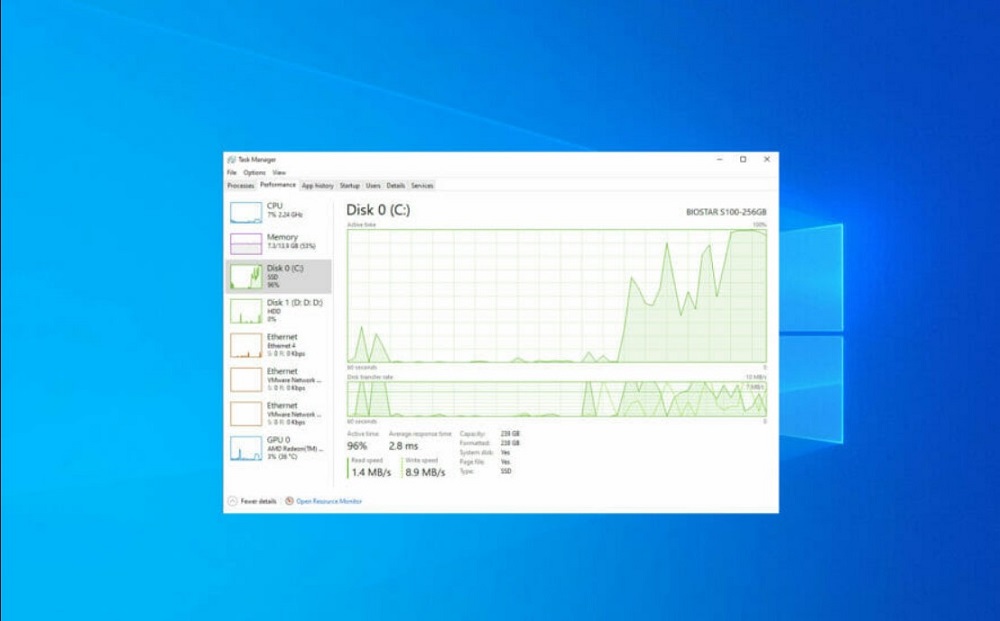 In relation to what makes Superfect important, you may want to consider how the entire process doesn't seem that way. The service host feature may work in some cases, but it has a cost to pay as well. If Superfetch supposes to optimize the system process, then why it takes up disk usage in your PC.
In order for the program to work, the cache data of certain programs need to be made. Afterward, the caches will help run the programs you often access efficiently. Keep in mind that this feature helps run the apps quickly. In other words, all the steps leading up to the memory manager process itself take a considerable amount of RAM. Not to mention that the system process happens to run in the background as well.
Aside from the heavy process to the memory management system, there are other reasons why Superfetch gets in the way of the user operation. The service host can sometimes mess up on its own. It does not know when to stop the process, or which program progress to pre-load. To make it even worse, the service host can operate all the processes at one time. All these system processes can be executed later in sequences instead of running them all at once.
Another downside from Superfetch is that reports have surfaced about Superfetch getting in the way of gaming process. Some of the gamers say the Superfetch brings the frame rates down. Others also say that the service host from the Superfetch process results in sudden increases in memory. It has come to an alarming state when it freezes the system.
---
Consider Disabling Service Host Superfetch in your Windows PC
Knowing all the information about Superfetch may help you figure out what to do with it. The service host processing may seem to overwhelm your PC at some point. You may even get irritated with the way it acts up. In the end, you should consider whether to disable the service or continue with it. What good does it do to your Windows PC? Should you disable it? Will your PCs face any following consequences from disabling the service host system?
Fortunately, disabling Superfetch won't put your computer at risk. Unlike the other issues malfunctions and errors in the system upon disabling a service, SuperFetch can simply be gotten rid off without any consequences. Superfetch, as a service host, is only a memory management process. Therefore disabling it will not result in any significant errors.
That being said, your PC may face some inconvenience with the Superfetch gone. As Superfetch runs your PC efficiently with caches data and memory management, your Windows system may have to take care of all of it in itself. In other words, the Windows system may have to run each one of the applications and programs in your PC all by itself. Since the service host managed to run the PC more efficiently, you may face some inconvenience when operating your personal computer. Among other things, your computer may face a slight increase in booting time, slow response upon opening programs and applications, and other minor bugs in the system.
Even though we deal with some issues upon disabling the service host, it's probably relieving to see the normal disk usage afterward. In return of the Superfetch, your disk storage capability will operate at a normal pace. Besides, the booting progress can no longer wait for long after the Superfetch long gone.
---
How to Disable Service Host Superfetch in Windows 10
We have finally come to the reason why we're here in the first place. This is the last choice of your computer's constant performance issue. Disabling Superfetch may solve your computer issues once and for all. Keep in mind that you may find some slight issues with your computer performance later on. Although there haven't been any reports about disabling Superfetch in Windows 10 system, we strongly recommend you to be cautious of any unwanted changes. If disabling it doesn't solve your computer performance issue, then you can always turn to enable it back.
After getting to know everything about Superfetch, dive down to take a look at how to disable it. You can get rid of high disk usage in Windows 10 once and for all by applying this method.
---
Quick Steps to Disable Superfetch
In order to disable the service host, you can simply locate it on the service system. Windows 10 has a way to get you to the options. To disable the Superfetch, follow these steps below:
Step 1: Open the Start Menu.
Step 2: Type "services" on the search bar
Step 3: Press Enter
Step 4: Look for Superfetch on the list of services
Step 5: Once you locate it, right-click it
Step 6: Choose "Properties"
Step 7: Set the startup type to disabled
Step 8: Choose the Stop button to stop the service
Step 9: Finalize your choice by clicking OK
---
Using Command Prompt to Disable Superfetch in Windows 10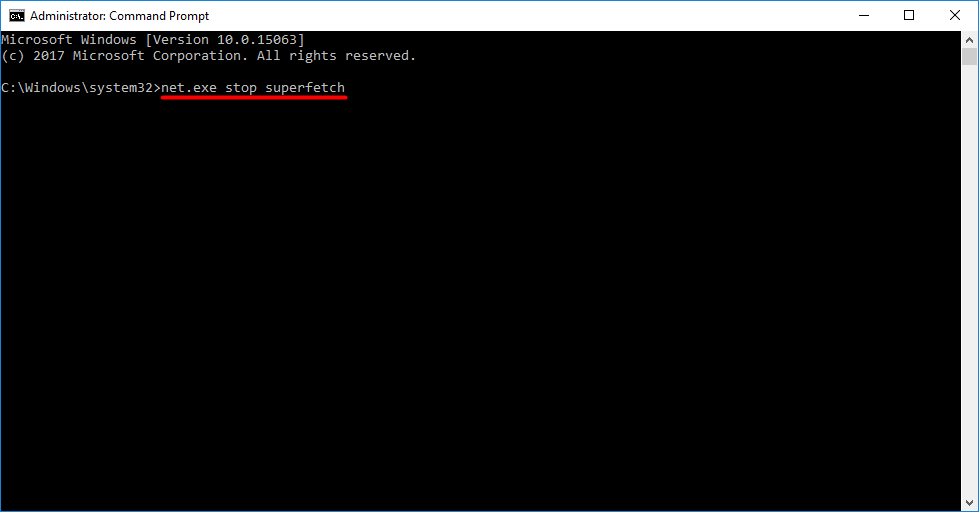 The other common technique to disable a service host is through a command prompt. This method will effectively disable the Superfecth service effective immediately. Follow these steps below to disable Superfetch in your Windows 10 PC.
Step 1: Search "Cmd" in Windows Search. A list of programs will appear as soon as you finish typing the keyword.
Step 2: Proceed to right-click on the best match program
Step 3: Choose "Run as administrator."
Step 4: Type "net.exe stop superfetch" on the Command Prompt (Cmd)
Step 5: Press Enter
Step 6: To finalize the disabling process, type "sc config sysmain start=disabled"
Step 7: Press Enter
---
Using Registry Editor to Disable Service Host Superfetch in Windows 10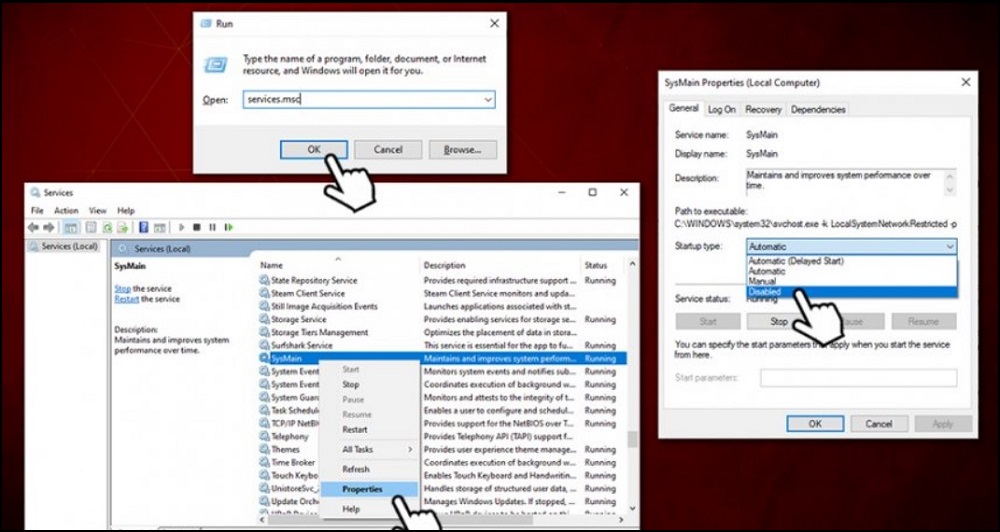 Another way to disable the Superfect service is through Registry Editor. Windows allows you to locate the type of service you want to disable as long as you have access to it as an administrator. Follow these steps below to stop the Superfetch service in your PC from working.
Step 1: Type in "Registry Editor" in Windows Search bar.
Step 2: Click on the best match result to open the program.
Step 3: Head over to the search bar.
Step 4: Type the following address on it–"HKEY_LOCAL_MACHINE / SYSTEM / CurrentControlSet / Control / Session Manager / MemoryManagement / PrefetchParameters"
Step 5: Find the "Enable Superfetch" key on the panel on the right side.
Step 6: Double-click on it.
Step 7: Modify its value from '1' to '0'
Step 8: Choose OK
Step 9: Shut the Registry Editor
Step 10: Restart your computer.
---
Using Services Snap-In to Disable Superfetch in Windows 10
Locate the service host from your Windows to disable Superfect service. You can simply change the setting of the service to disable it. Follow these steps below to disable the Superfetch.
Step 1: Type in "Services" in Windows Search
Step 2: Open the first best match option on the search list
Step 3: Locate service called "Superfetch"
Step 4: Double-click on it
Step 5: Choose "Disabled" on the Superfetch properties
Step 6: Pick the option Stop.
Step 7: Restart your Windows PC